A frightening reality
A frightening reality
by Rhonda Kanet Chambless
I wrote and posted the following article on Nov 1, 2020, prior to the Presidential election. At the end you will see a frightening update I just finished. Please read through it to understand how the pieces are falling into place. It is a short read but will scare any and all proponents of democracy.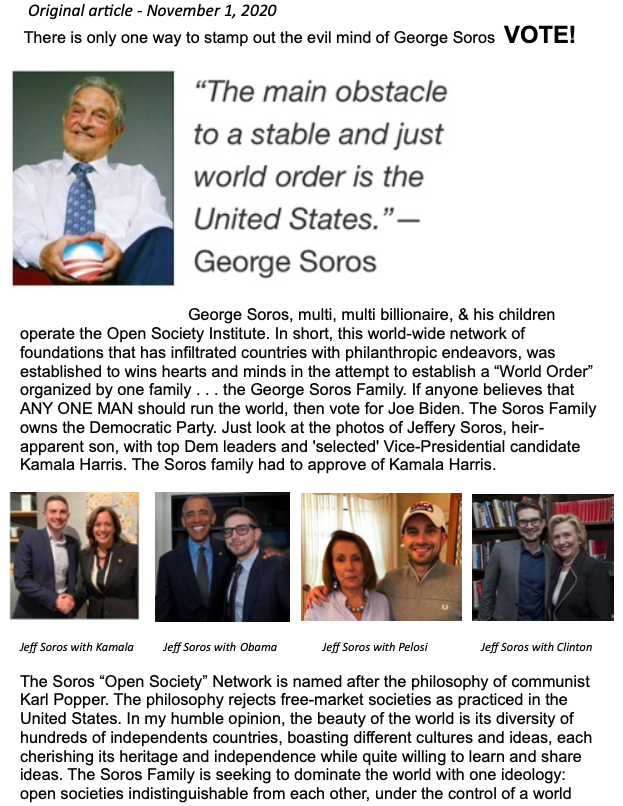 Update: April 13, 202
Notice the top left box in the graphic above. WORLD ECONOMIC FORUM 2009. This is where Klaus Schwab enters the picture. The World Economic Forum is his creation and is in full operation, as I wrote about on March 27, just a few weeks ago which you can read on this website. https://www.kanetproductions.com/2022/03/27/klaus-schwab-is-a-scary-man/ This update though will prove how it is now all coming together. You can connect the dots of names in the update below and see how the plan is unfolding. Major General Geoffrey B. Higginbotham, USMC (Retired) is the primary researcher of the Kamela Harris political history. I have verified his facts through other sources and research. It is frightening. Please pass this link to everyone you know as our numbers are our only hope of saving our Republic.
Kamala Harris's father was an avowed Marxist professor in the Economics Department at Stanford University in Palo Alto,
Both of Harris' parents were active in the Afro-American Association, whose leader was Donald Warden. (Fidel Castro and Che Guevara were the heroes of the Afro-American Association)
Afro-American Association members, Donald Warden, Huey Newton and Bobby Seale created the Maoist Black Panther Party, supported by Communist China
The Black Panther Party was the model for creation of the Black Lives Matter Marxist Organization. Black Lives Matter Marxist Donald Warden, arranged financing and facilitated Barack Obama's acceptance into Harvard Law School
Willie Brown, Jr., is a well-known Communist sympathizer. He was first elected to public office with help of the Communist Party USA and Dr. Carl Goodlett, the owner of pro-Communist The Sun Reporter, and went on to be Mayor of San Francisco. Today, Willie Brown is widely regarded as one of the Chinese Communist Party's best friends in the San Francisco Bay Area
Kamela Harris was the long-time mistress of Willie Brown Jr.
Willie Brown Jr. facilitated Kamela Harris's election to California Attorney General
While in office, Kamala Harris mentored San Francisco Radical Maoist activist, Lateefah Simon. He currently chairs the Bay Area Rapid Transit (BART) Board
Lateefah Simon is close friends with Communist Alicia Garza.
Kamela Harris is close friends with Alicia Garza
While at Stanford, Maya Harris, (Kamela's sister), was closely associated with Steve Phillips, one of the leading Marxist-Leninists on campus and a member of the League of Revolutionary Struggle, a pro-Chinese Communist group.
Steve Phillips married into the multi-billion-dollar Sandler family, of the Golden West Savings and Loan fortune. Steve Phillips funded Kamela Harris's California campaigns and Barack Obama's defeat of Hillary Clinton for President of the United States.
Doug Emhoff (Kamela's husband) is a lawyer with DLA Piper, which "Boasts nearly 30 years of experience in Communist China with over 140 lawyers dedicated to its 'Communist China investment Services' branch." Doug Emhoff is a Professor at Yale teaching future lawyers in the fine points of Communism.
Karine Jean-Pierre (Kamela Harris's Chief of Staff while Senator) is pro-Communist and worked closely with the China/Communist North Korea Workers World Party and Jean-Bertrand Aristide, former Communist president of Haiti.
A simple background check shows Kamela Harris's ties with Marxists, Communists, Maoists, and Communist China. While the Democratic Party was promoting hate for Donald Trump led by Big Tech, Mainstream Media, Big Banks and many American corporations beholding to China, the true people in power (George Soros, his son, Obama, Klaus Schwab and a few others) offered up "acceptable Joe Biden" knowing he has dementia and would not fill out his term. While no one was looking, they slipped in Socialist, Marxist, and Communist controlled Kamala Harris as Vice President candidate. Biden wanted Susan Rice, but they would not let him.
When the 25th Amendment is invoked, the first Communist President of the United States will be in office. Kamela Harris will flood positions in the US Intelligence Agencies, in the Department of Homeland Security, in the Department of Defense, in the Justice Department, the Department of State, the FBI, the CIA, most cabinet positions, the National Security Council, and in the White House Staff with anti-American Leftists, Communists, Socialists and Marxists.
Kamela Harris is a threat to our National Security and to the survival of the US Constitutional Republic. This is reality.