SAVING CHILDREN FROM SEX TRAFFICKING
SAVING CHILDREN FROM SEX TRAFFICKING
Can you picture a nun, dressed in street clothes walking the back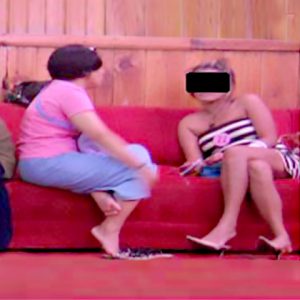 alleys at night to rescue girls from the horrors of prostitution? Offering brothel owners money to buy back young victims.

Can you imagine a rural family so poor and desperate, they are lured to allow their young daughters to
"work for jobs in the city" rather than see the entire family perish from lack of food and proper shelter?
Both of these scenarios are gut wrenching but true. Mary Queen of Heaven Missionaries was established by a small group of nuns to address the cruelest result of impoverishment in the Philippines…young girls being forced into the sex trafficking trade due to poverty. Girls ages 8 to 15 are locked in rooms and exposed to rape, diseases and murder. Many die quite young before they even have a chance to live. The determined nuns of MQHM have developed a two-fold plan to combat these atrocities.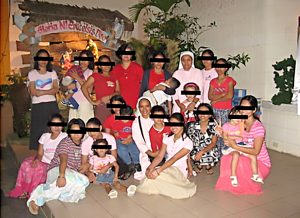 First, they are rescuing as many as they can and bringing them to The Home of Love, where they are safe, receive shelter and rehabilitation, while being educated and taught a respectable trade to provide for themselves and help their families. The nuns walk the streets of Cebu's red-light district area, contacting as many girls as possible. Ironically, the culture in the Philippines has a reverence for the Catholic clergy, so even in the darkest brothels, they are usually allowed to talk to the girls. When finding a victim who is willing to trust them, the nuns make arrangements for them to come to the Home of Love.
As a respite for the victims of sex trafficking and prostitution, the Home of Love offers shelter and rehabilitation services,
while providing hope and dignity towards a well-deserved life of happiness. Sometimes the girls have to be initially locked in their rooms at night, so they do not run away, until they understand that this is not just "another room" where they await abuse.
They are offered shelter, basic health care, maternity and medical assistance, psychological therapy, counseling, education and skills training like baking, sewing, cooking & catering, so they can return to society with a trade.
In addition, the nuns are reaching into the rural areas of the Philippines and offering children an education, as a preventative measure and a way out of the vicious cycle of poverty. Named The Regina Coeli Educational Program,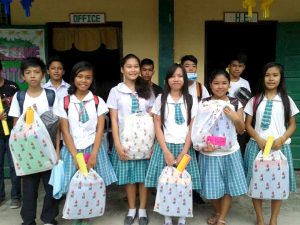 this effort has had amazing success. Firmly believing that poverty in the mountain areas of the Philippines is the root cause of children lured into prostitution, MQHM developed a plan to provide educational assistance to the rural poor. Extreme poverty is prevalent . . . most houses are dilapidated, have no electricity or running water, food is scarce . . . so providing basic school supplies is impossible, and children remain away from school.
Their possibilities for a decent life become limited. Boys consequently stay and work the garden and the girls have no alternatives. The sisters of MQHM reach into the rural areas and provide educational assistance to encourage formal education, which they have established in small schools in Cebu and many other islands of the Philippines.
Food Assistance, educational materials including notebooks, pencils, backpacks, uniforms, shoes and spiritual & family development are now being provided to over 4000 children.
I am currently working with these nuns in developing communication tools to create awareness to people throughout the world about their efforts…and the great tragedy which has fallen upon the children of the Philippines. Only $25 per month will allow a child to attend school throughout the year. $100 a month funds a girl to live in the Home of Love until she is able to return to her family and enter the MQHM education program if she is very young, or earn a productive living by receiving training in a variety of occupations.
The Sisters of Mary Queen of Heaven Missionaries have a sincere mission to embrace God's graces and serve the poor and unfortunate children of their country, through mercy, love and charity. You may find it in your hearts to share your many blessings with children who have nowhere to go to escape their unspeakable situation. I can sincerely vouch for this organization.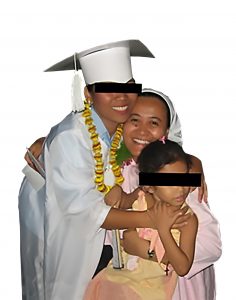 or MAIL to the USA Office
Mail-In Form

Mary Queen of Heaven Missionaries
727 Stichman Avenue, La Puente, CA 91746
Mary Queen of Heaven Missionaries has its home base in the Philippines
1412 Alteza St., Camella Homes, Lawaan, Talisay City, Cebu, Philippines
Mary Queen of Heaven Inc. is a registered 501(c)3
Donations are Tax Deductible EIN 26-1247887